-Trilce, ramdon question,
do you do murals? 


(December 2021)
That question came to me one cold December day in Finland, when I honestly didn't have many projects to work on and I was a little discouraged. Would you believe that the answer to that question led me to one of the most important experiences I've had as an artist?: painting a mural in Germany!!!! 😱
The Goethe-Institut, the cultural center of Mannheim

Z

eitraumexit, and the association Stadt.Wand.Kunst invited me to Mannheim to create a mural and participate on a exhibition in tribute to the indigenous women of the Global South and their struggle for the rights to education, sexual education and reproductive health. The initiative was born out of the

#MovementsandMoments

 project led by the Goethe-Institut Indonesien and was based on a comic that Helen Quiñones and I made about Andean feminism.
We moved with my whole family from my village in Rauma and to my surprise it was very difficult to move, with a small child and so many suitcases, running to change buses with the baby carriage and a grumpy husband didn't help much. But after a long trip via Berlin we finally made it to Mannheim train station where Benjamin Bay from Zeitraumexit was waiting for us with a welcoming smile. He took us to the artist's apartment they have which was super well located and very nice, with many traces of all the artists who have done residencies and used the space, I was very happy to be there too as an artist, I couldn't believe it! 

My dad arrived a day later straight from Frankfurt from Peru, he traveled all the way to help us with our kid and so was a really happy time to see each other after a year.

So what the mural means? Ok, I know you will think about this question! The mural depicts the sovereign right of indigenous women to get comprehensive information to let them decide about their sexual life and life plan. The characters represent women in various facets of life: labor, social, political and cultural. One of the women holds a megaphone, alluding to political action in a protest or public intervention; another looks at a cell phone, a contemporary symbol of free access to information, digitalization and the freedom to express oneself through social networks; another woman points the way to freedom to a girl; one of the women-characters appears 'carnavaleando' and playing an Andean charango that carries on the side the phrase "Allillanchu Mannheim", a greeting in Quechua that can be translated as "Hello, Mannheim", a way in which the Andean culture greets the German city.
From the beginning Stadt.Wand.Kunst assigned me a supervisor who would come daily to see my progress, at the beginning I thought that maybe they were suspicious that I could do the work alone 😅 but it turned out that the supervisor was a totally enjoyable person, a very professional artist but simple and accessible at the same time and one of the best people I met on this trip, his name is Jens. He also bought me a lot of food ❤️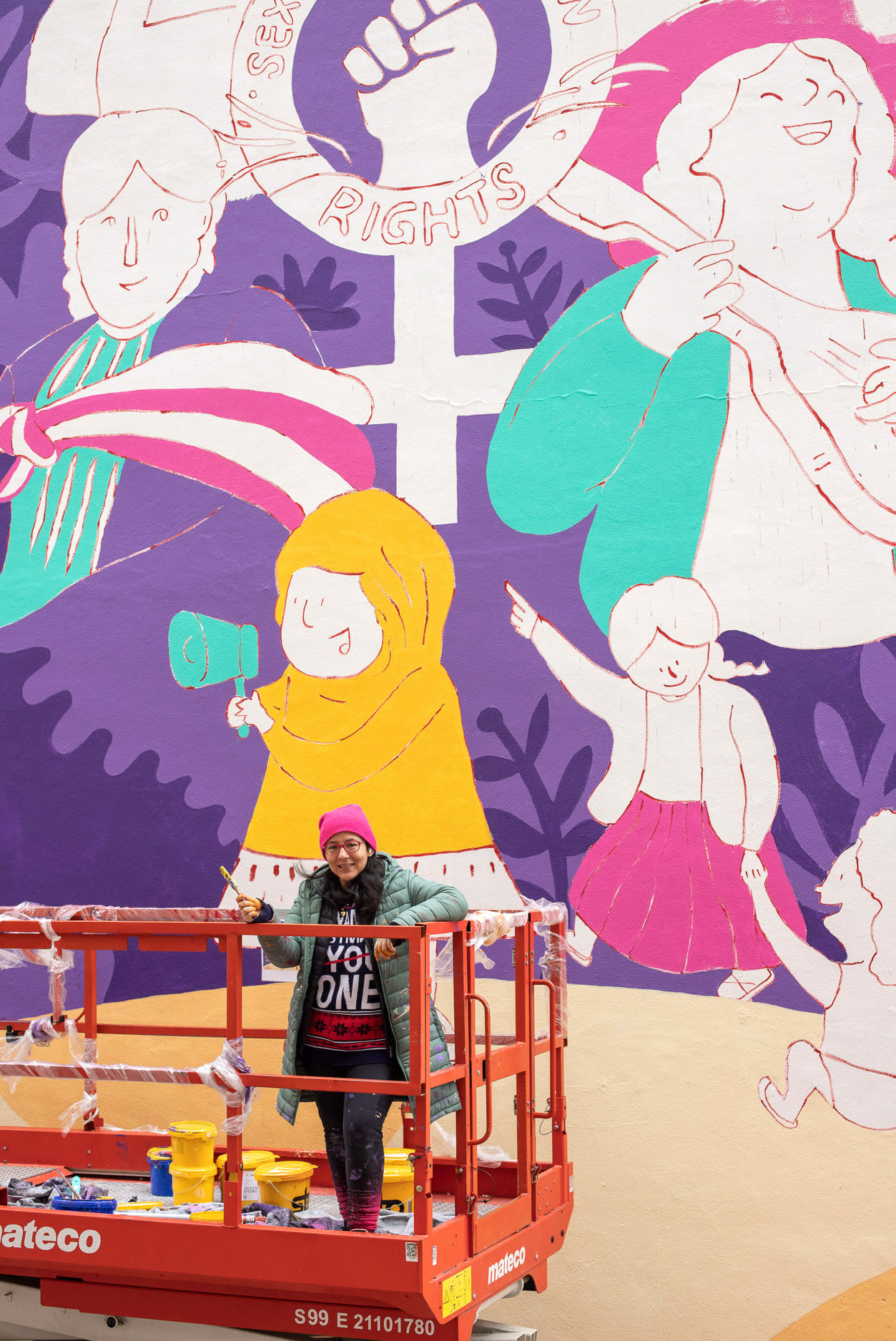 The day that I finally finished to paint the mural was really a sad day because the Russia attacked Ukraine starting with this the war, eventhought I want it to take a picture to remember a tiny personal achivement.
In the process to do the mural I met really nice professionals who helped me all the way and made my day a little cozy because I needed to work on the German winter! Specially a week was really windy and cold but people of zeitraumexit did all that they could to make me feel good. 
The community also was really welcoming and used to have encouraging words for me. It was really nice to know that people valued my work and respected it so much, I was thanked very emotionally by some of them! Others asked why the phrase 'Sex Education' very inquisitively and perturbed, confirming that it is true that sexual health issues are still taboo in many communities, but I think this type of art is important to start conversations between families, friends and the community.  
I forgot to take pictures with many of them, but I will always remember some nice moments with all the people and the community of Mannheim.
For the opening day my dad finally made one of his dreams come true, to make a Pisco Sour in Germany!!!! With the help of Benjamin who provided all the logistics (not only for the event, but for the whole trip, thank you Benjamin!!!!) my dad prepared many piscos sours for many Germans :D and they enjoyed them!!!! We also invited turron from Dona Pepa which was also very much enjoyed. I noticed at the Zeitraumexit bar that they put on the blackboard on the wall Pisco sour 'Trilce special' I don't know who does that but I felt very honored and that was the pinnacle in Mannheim's work! Yes! it made me feel very special Mannheim! I hope one day I can recover from you!
Finally the last day we had a panel with two specialist of feminism and gender studies Sonja Eismann and Reetika Revathy Subramanian moderate by the amazing Sevda Can Arslan, we talk about the Movement and moments initiative, how was the process of making our comics, what we learned from that and what is indigenous feminism for us. Reetika comic was made with Maitri Dore and they portraited the story of Godavari Dange from Marathwada and you can see their beautiful comic here.

After the presentation J.P. invited us for a nice dinner. We had the best time!  

Picture time 👇🏽👇🏽👇🏽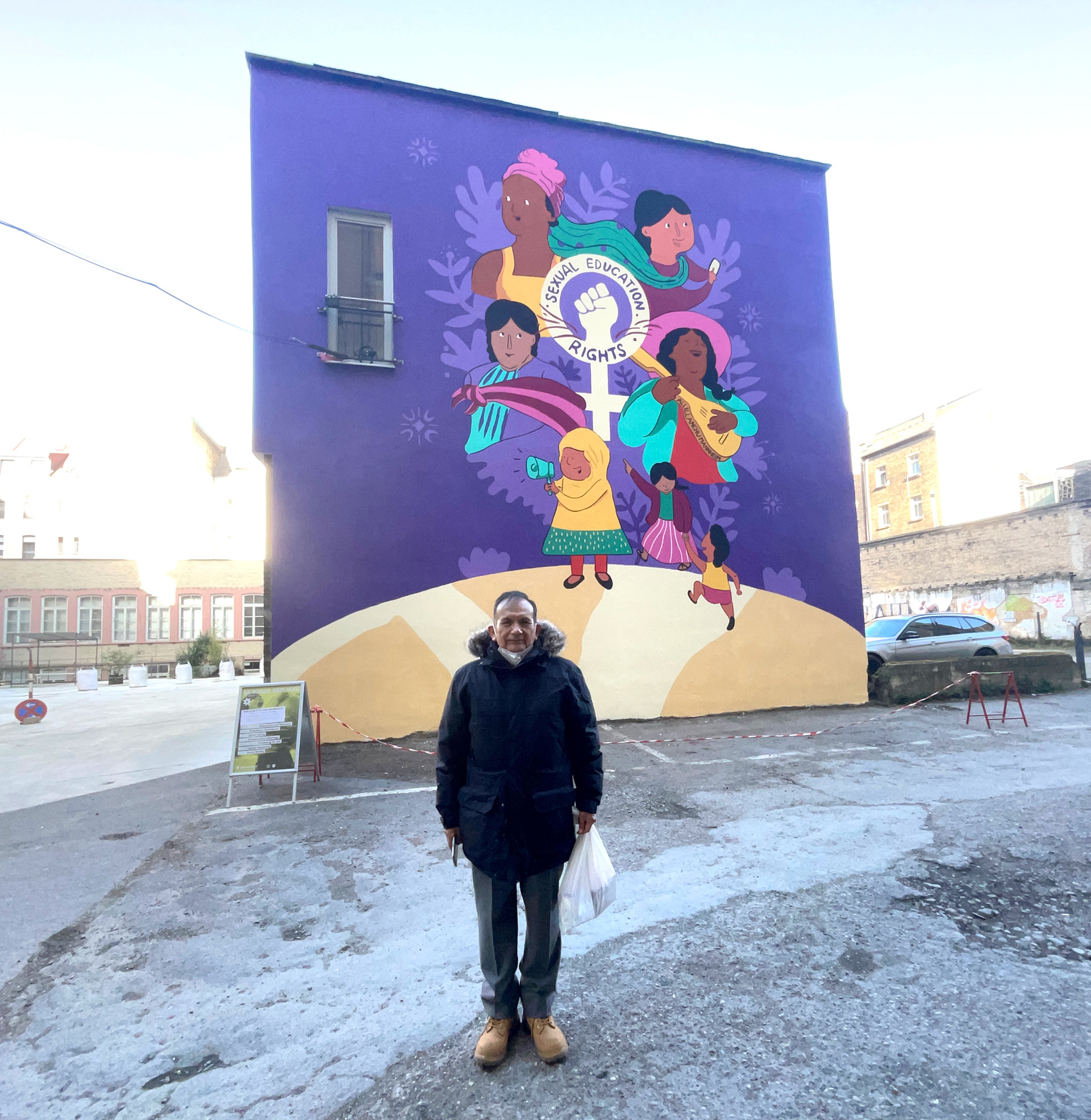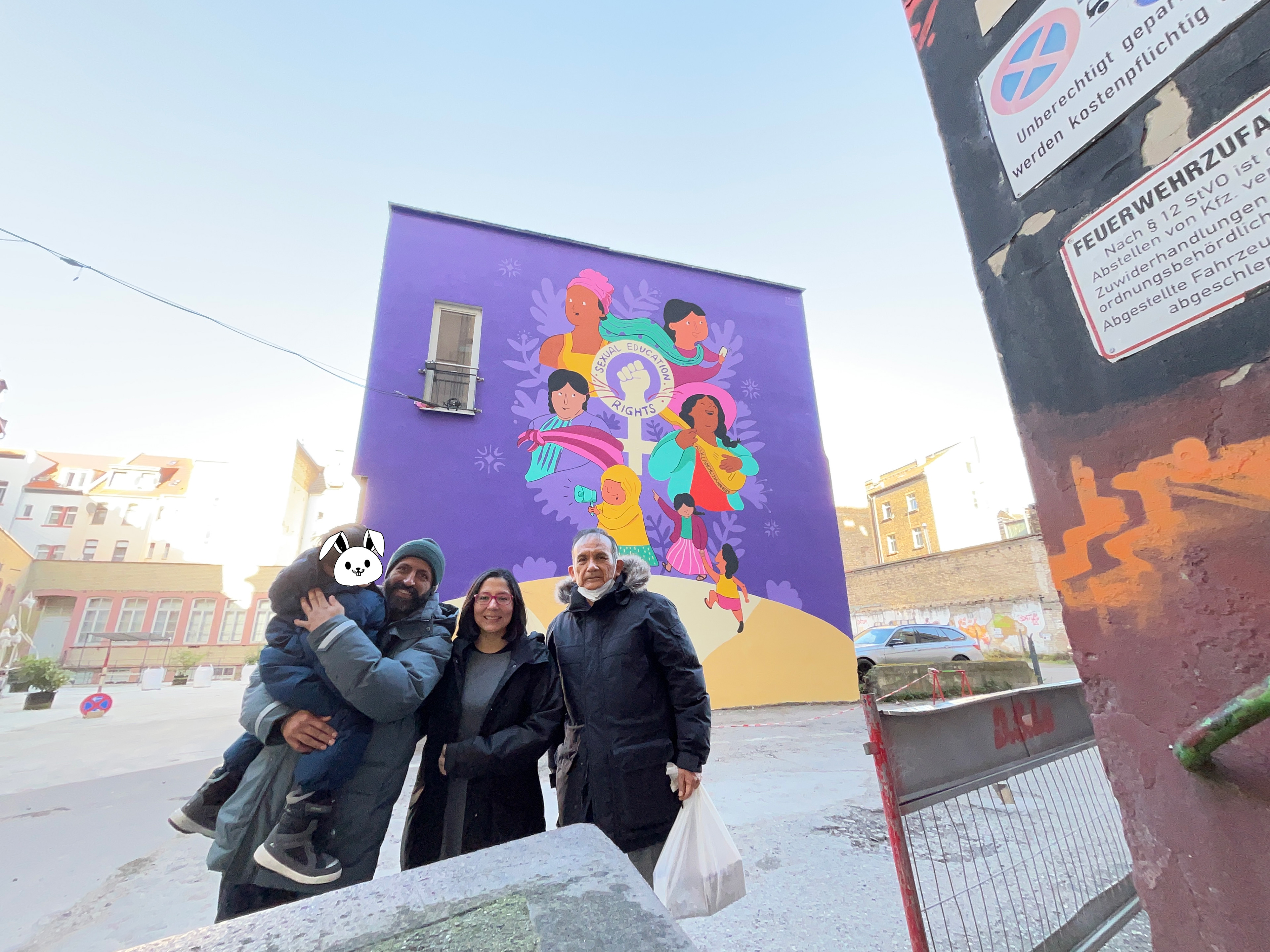 Thanks to Maya and Ingo from Goethe-Institut Indonesien and specially to JP (Jan-Philipp Possmann) from Zeitraumexit! for begin a great host, very patient and nice with me and for that last day in Herzogenried park with his kids, the last conversation was really nice! 
Many thanks also to Isa and Frank, Tamara, Ron, Mitch, Benjamin, Zehra... I know I'm forgetting someone more and it's not fair ☺️ but thanks all!!! 
If you happen to be in Germany and can visit the city of Mannheim, look for the mural and take a picture! The mural is located at Haffenstrasse 68, 68159 Mannheim, Germany.

All images are from Alex Krziwanie and Trilce Garcia Cosavalente

#MovementsandMoments #FeministGenerations #Goethe-Institut #BIPOCartist